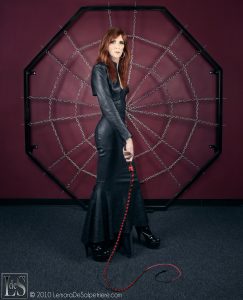 Pantheon of Leather
Woman Of The Year
2006 & 2009
Mistress Cyan has been active in the BDSM and Leather Lifestyle for almost 30 years, and has been a Professional Dominatrix for just over 20 years. Considered a leader in each community, Mistress Cyan has received The Pantheon of Leather Woman of The Year in 2006 and 2009, as well as a TSR Viewers Choice Award for Lifetime Achievement, and has been named Mentor of The Year in 2007 and twice named Fundraiser of The Year by The Los Angeles Leather Coalition's Southland Honors and received a commendation for leadership and support from The City of West Hollywood in 2007. The Central Canada Leather Association named her Icon of The Year in 2015. She has been judging leather contests across the country and Canada since 2006.
As an educator, Mistress Cyan has been a guest speaker and class instructor at a number of colleges and institutions of higher education such as UCLA, Stanford University, Cal State Long Beach, Cal State Northridge, Occidental University and more. She has also presented classes and conducted workshops throughout America and Canada for more than 15 years.6
Mistress Cyan is the founder and executive producer of DomCon LA, DomCon Atlanta, and DomCon New Orleans, now in its 16th year. She is the producer of The Lair at AVN in Las Vegas and owns the 7000+ sq. ft Sanctuary Studios LAX, the largest dungeon in Los Angeles, and serves on The Board of Directors for LA Pride. She is the Founder of West Coast Olympus Leather and former co-producer of The International Olympus Leather Contest, of which she chose to resign in 2016 to recover from a tough battle with cancer. She was honored in 2017 as Woman of The Year by The Los Angeles Leather Coalition.
In 2018, she received a commendation form the City of Los Angeles and The City Board of Supervisors for her longtime leadership and support of the Los Angeles LGBT Community. In 2019, she will be an Honoree of SAGE, a national organization honoring those in the LGBT Community for lifelong commitment to the community and will be interviewed by archivist Douglas O'Keefe in a Fireside Chat for The Leather Archives and Museum in Chicago.