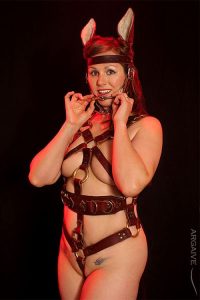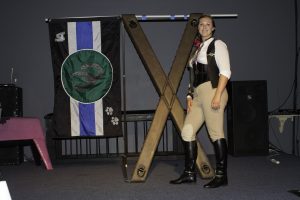 Ponygirl_Bixy is the pony of GryphonsDen, she is the founder of the Ottawa Pony & Critter Club which hosts social events and practices for pet players in Ottawa, Ontario, Canada.  As well, she is Ms. National Capital Leather Pride 2012 of Ottawa, and the Grand Champion of the Brimstone Pony Competition of 2012. Ponygirl_Bixy is a co-creator of the Pony and Critter Pride Flag for the Ottawa Pony and Critter Club, incorporating visual symbolism of her local community with the present symbolism of the Pony Pride Flag with the critter aspect of her local pet and pony play community.
Bixy is a female Gelderlander Mare, Strawberry Roan in colour and standing 17.1 hands high.  She is trained primarily in Dressage, and is very keen to begin cart training amongst other disciplines.  Bixy finds playing with her Trainer to be a rewarding, exuberant experience, and will happily trust her trainer to guide her through the many facets of pony play that exist.  Bixy enjoys taking the reins of other ponies and teaching.  She prefers hands- on collaborative approach when sharing information, and is always excited to learn and share something new.  When out of Pony Headspace, Bixy helped out with various community events, often enjoying the chance to perv while helping at events such as Mr. Leather Ottawa, Sexapalooza, and Pride.  She also enjoyed playing in her community, being a demo pony for Miss Ann whenever she could, and generally running around and getting into mischief.  Ponygirl Bixy is North American Pony 2014.
Currently, Ponygirl Bixy is focusing on her family life in Ottawa.