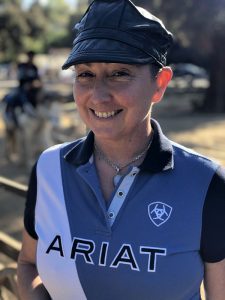 Long-time sex-positive lifestyle activist in both the USA and Sweden, Wilcox believes that Pony Play and BDSM play can help us live the deepest passion burning in the soul, spiritual bliss through love. It is to explore, learn, experience, understand, grow, develop communication, build emotional and intellectual balance and strengthen mental resilience. Play makes us more fully human. It can be a spiritual path to enlightenment/self-growth. Xe feels called to share that path with others. One of xir greatest joys in life is teaching and coaching about things that xe loves. That includes Pony Play. 
Mx Wilcox, known also as Ponymistress Rebecca, is author of The Human Pony published by Greenery Press. Xe maintains the legacy of "Equus Eroticus." Xe holds the 2009 North American Pony and Trainer with Submissann for Great Lakes Leather Alliance. Wilcox started xir pony legacy in 2004 joining the SF Stampede where one thing led to another to span sixteen years of pony love. This includes starting several events such as the Northern California (Human) Fox Hunt which became the Chase and three  television documentaries. Xe has joined in the pony fun and community development as often as possible in the USA, Sweden and Germany. Xir favorite moment was recognizing that xe is a Pony Play grandparent. 
IF YOU WANT TO FIND YOUR HEART'S DESIRE, YOU HAVE TO BE WILLING TO LOOK INTO ITS DEEPEST SHADOWS. IN THEM YOU FIND YOUR DEPTH.
Claim to fame, or so "they" say:
Author of "The Human Pony" published by Greenery Press; Owner/Publisher of "Equus Eroticus"; 2009 North American Pony and Trainer with Submissann for GLLA; (Human) Fox Hunt 1st – 4th Annual hunts 2006-2009; SF Annual Dog and Pony Show Presenter/Ambassador 2005-2009; SF Citadel Instructor 2005-2008; Pony Play Days (The Greater SF Bay Area) 2005-2008; Pony Pride Round-Up Leader (Leather Contingent SF Pride Parade) 2006, 07, 08, 11; Folsom Street Fair Exhibitionist 2004, 05, 07, 08, 15; Stampede Munch faithful participant Aug 2004-May 2009; Pony and Pet Day at Edges Feb 2009; Participant at The Farm, KY 2008, Central Texas Kink Jamboree 2008; Dom Con 2009; Camp Crucible 2009; Pro Dommes and Beyond Calendar 2010; Pony Play classes for Pom Pom Parlour 2009 and 2011; Interview with islandofpain.com
2009; Erotic Fair Demonstrator 2009-2012; 2012 Ask Olle: Sex Documentarian on Fetish; 2012 Fetish lecturer at Karolinska Institute in Sept and Dec; Jan 2013 Ask Olle: Sex Documentarian on Pony play as Dominance; Fury Fantasy extravaganza 2014; Presenter – LA Pony and Critter Group, August 2014, "Animal Medicine" and "Animal Behavior Adaptation to Animal Role Play"; Pony Play with Nighty – Berlin, Jan 2015; Stockholm Pride Animal Role Play  2015; Ask the Pony III,
https://www.youtube.com/watch?v=nXg0JFplpUw
, Dec 2015; and
Judge – Pony Play Day in Sweden May 2017. Pony Play Ambassador to Sweden (2009-2017).
Sex positive lifestyle activist – Stockholm community projects:
MWxj – Out of the cage duo
Club Wish spectacle provider
RFSU Stockholm BDSM and Fetish Activist
Fetish Week Fair Project Manager for RFSU Stockholm
Speaker on Fetish, Therapeutic Relationships and The Distinction between BDSM and Abuse at the Karolinska Institute teaching hospital
USA (recent)
Power Play workshop at Threshold, Los Angeles, Sept 2019
Pony Play 101 in Los Angeles, March 2019
Pony Grandma – IPPE Los Angeles with the LA Pony and Critter Club 2018
Judge – IPPE Los Angeles with the LA Pony and Critter Club 2017