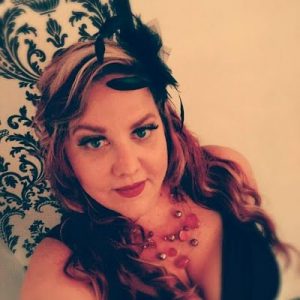 Trixie LaFontaine's love for horses began as a little girl when she'd feed the best apples off her great-grandmother's tree to the neighbor's horse. Over time, she'd learn to ride and control the power of these beautiful animals. This built the foundation for her confidence in adventurous exploration.
Part of that exploration has taken her through the world of burlesque. Trixie likes to blend the beauty of Hollywood's Glamour Girls – Mae West, Marilyn Monroe, Betty Page, and Tempest Storm – with confidence to create a world that is feminine and powerful. From burlesque, Trixie began to explore the traditional sub/Dom relationships. Learning to switch role has given her a greater understanding of what her partner is going through and needs whether it is in a scene or in a relationship.
Burlesque and Pony/Trainer Play is similar in that through the performance or play, one can escape from reality for a while and enjoy the wonderful fantasy world. "When I'm performing, I can be anyone I want to be," and as such Trixie becomes radiant and beautiful. Mingling with like-minded and supportive people does her soul good and produces a euphoric experience for everyone. Thus Trixie looks forward to sharing the beauty and power of PonyPlay where ever she goes.